ELECTRONIC FILE MANAGEMENT
WHAT IS AN ELECTRONIC RECORD
Most document management applications group documents by folders. Abox ECM differs from other platforms because of its powerful file manager, which allows an exhaustive control of any procedure by grouping documents and treating the whole as a document unit.
The file is the centre of document management. An electronic file is the documentary representation of a process and, as such, must store all the contents of that process, control the way and order in which they are loaded to the tool.
Abox ECM allows advanced management of files, as a composite document unit, as well as independent management of the documents they contain.
FOR WHAT PROCESSES
There are electronic records for a multitude of business processes:
Shopping
Invoicing
Project
Employment records
Medical records
Petitions, complaints and claims
Suppliers, customers and others
Vehicles, equipment and other machinery
Procedures for clients or citizens
Missionary Processes
And many more…
MINIMUM FUNCTIONS OF AN ELECTRONIC FILE
Some of the fundamental features of the files are:
Powerful classification capacity, not only of documentary series (file types), but also of documentary types.
Control of document types, document entry requirements, order, number and typology can be predetermined.
Automatic control of the progress of the procedure.
Metadata unique to the process and inherited from other activities.
On-line content viewer, multi-format, text or multimedia, fully integrated, no need for downloads.
Security features, such as locks, certified locks (indexes) and archiving.
Possibility to integrate with workflows (BPM), process modeling, assignment and supervision of tasks, total automation of document management actions.
Association with the document classification table and possibility of internal organisation by sub-files and sub-folders.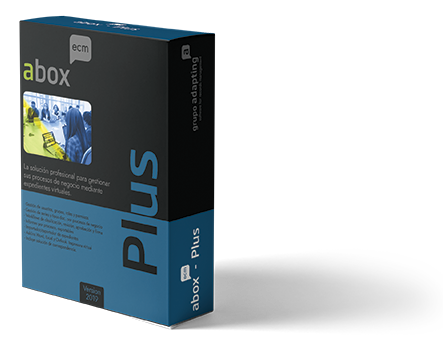 ABOX PLUS
The professional solution for managing business processes by means of electronic files with workflow.
Key in hand, modular, it is valued by number of documentary series (types of file).
It includes the modeling of a workflow using Bpmn2 language.
Management of users, groups, roles and permissions

Management of series and doc types by business processes

Generic classification, review, approval and signature workflows

Manual radiation and drag&drop

Integrated viewer of most office formats, images, emails and multimedia

Reports by process, exportable

File importer/exporter

Optional add-ins for Word, Excel and Outlook. Virtual Printer

Option of digital signatures.
OTHER POSSIBLE USES
Integration with the One-Stop Registration Window
Quality management
Unique Records in Associations
¿WOULD YOU LIKE MORE INFORMATION ABOUT THIS SOLUTION?